A Very Halal Interview with Durgamaya/Merieme Mesfioiui

Originally published January 18, 2018 on Bigmouth Comix.

---

Durgamaya (Merieme Mesfioui) is a 25-year-old Morroccan illustrator, graphic designer, and comics artist based in France. We were drawn to her bright, bold, and compelling work, which often uses the female form, erotic themes, and does not shy away from more "taboo" subjects or imagery. Durgamaya recently launched a new zine called HALAL Fanzine. The zine brought together AMEMSA artists from around the world, who submitted works to the zine that would be displayed free of censorship. We reached out to Durgamaya to learn more about her work, how she forges alternative spaces for marginalized artists, and the ideas behind HALAL Fanzine.




Leila Abdelrazaq: What themes and issues compel your work the most?
Merieme Mesfioui: I am seeking more freedom for women in the MENA (Middle-East and North Africa) region, using erotic art expressing female empowerment but also promoting lgbtqia+ community's rights as an ally. I try to combine traditional Moroccan patterns and elements from Islamic art with graphic design and an erotic touch.
My work focuses on my relationship with my body as a woman who belongs to the MENA (Middle-East and North Africa) region, according to the social pressure and patriarchy, and how to get over it and set myself (and women in general) free.




LA: How and when did you get into creating comics and zines? Why do you like this medium? MM: When I was a teen I used to start short stories based on comics characters I liked, but I was never able to end a story. Years after I decided to follow art studies and after obtaining a BA in graphic design and retail design, I spent one year studying illustration and comics. I realized that this medium made my imagination and my art in general blossomed. I wanted to tell stories, to share them, and this medium was perfect for that. Comics are a wonderful medium, linked to all other media, such as cinema, writing, and painting. You can combine everything you like while making comics, it's limitless and creative.
That's what I like the most, it will always surprise you and you can always experiment.




LA: What personal projects have you recently completed that you're most excited about? MM: I am the co-founder of SPIN OFF, an underground comics and fanzines festival based in Angoulême, organized at the same time as The International Comics Festival in Angoulême. This year it will take place from January 25th to 28th, I'm so excited!
It's a festival that combines microedition and music, we provide spaces for artists (who are still studying or already professional) who can't or do not want to attend the official festival. It's an alternative way to discover a new face of comics, less mainstream and far from what's in people's mind in general when they think about books, fanzines and comics.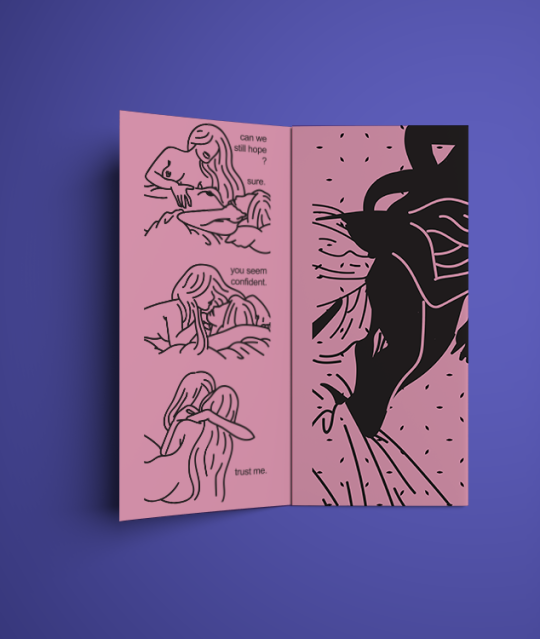 LA: Tell us a little about HALAL Fanzine. What is this project, and why did you start it? MM: It's a fanzine that contains the work of 28 artists (including myself) from the AMEMSA (African, Middle-East, Muslim, South Asian) world.
The project aims at providing a free space of self-expression to the AMEMSA youth. Its goal is to create a place in which young AMEMSA people could live their enjoyment beyond censorship.
The zine is an epic 72 pages of illustration, essay, short fiction, photography, comics and poetry focused on the experiences of the AMEMSA world's youth. Texts are written in Arabic, French, and English.
It's been a while since I wanted one platform (other than online) where you can find artists (not only comic authors) from the AMEMSA (African, Middle-East, Muslim, South Asian) world. I noticed that we lack visibility, and I don't pretend that I fixed it through HALAL Fanzine, but it's my humble contribution. I also wanted a project made by and for AMEMSA people, I'm a bit tired of fake news and other cliches about AMEMSA countries and white saviors, we are able to talk about our issues and we are able to gather and think together on our own about solutions in the future.
I had the chance in France to be part of many open calls for submissions, and I wanted to do the same for the AMEMSA youth.




LA: Did anything surprise you during the process of working on HALAL? MM: First of all, I didn't expect the huge amount of submissions I received! I was so happy to see that many artists around the world were responsive to the project. The second thing that surprised me was the fact that many of them didn't send the right files with the right size etc, I noticed that there is something to improve about answering to open calls for submissions, but that's normal because it's not something usual to most of them. I also noticed that we shared so much in common, our society issues, political etc. That made me confident about how powerful this project could be in the future, gathering all of us.

LA: Will there be more issues of HALAL Fanzine in the future? MM: Yes sure! I really want this project to last, I'll try to make one issue per year.




LA: What upcoming projects are you working on or thinking about?
MM: I'm planning to work on a new book that talks about inspiring figures from AMEMSA (focused on trans and cis women, femmes, non-binary people who made history in many fields.
I would also like to work also on violence (sexual, physical, verbal) against women and the lgbtqia+ community in general in AMEMSA countries, the harassment they're confronted to and the lack of support of their relatives.
‍
You can follow Durgamaya's work on her instagram @durga.maya. Check out her Tumblr as well, where there is info on commissions (she is open!). And make sure you support the artist/pick up a copy of HALAL Fanzine on her Tictail shop.