Riso for all: A new women-run community press in an East London library

Originally published April 4, 2017 on Bigmouth Comix.
---

Rabbits Road Press is a community risograph print studio and publishing press run by OOMK (One Of My Kind) in Rabbits Road Institute (Old Manor Park Library). The small-scale publishing press provides printing and book binding services for artists and local community groups in Newham.
A responsive programme of workshops, drop-ins and events over the next six months will explore a contemporary model for community publishing, bringing together artists, designers, writers and local people. The project builds on Rabbits Road Institute's initiative to establish an accessible and diverse community art space to support the development of new skills, knowledge sharing and social exchange for people living in Newham.
Bigmouth spoke with one of the founders of OOMK and Rabbits Road, Sofia Niazi, to learn more about their motivation and plans for the press




BM: How did the idea for Rabbits Road Press come about? Who is behind it? RR: We wanted to get a risograph machine for ages. A few of our friends have riso machines so it didn't seem like such a crazy or unachievable idea to get one of our own and start using it to print our own artwork and zines. I illustrated and riso printed Intifada Milk, written by Arwa Aburawa, in teal and brown and have been a bit obsessed with the process ever since, it gives such a nice effect and is so much easier and more immediate than a more manual ink layering technique like silk screen printing. Rose interned at Hato Press for a bit too so it was something she was familiar with too but in a more advanced and technical way.
The idea for Rabbits Road Press came about when we were between studios last year. We moved out of our previous studio, which was in North London, because the rent was too high so when Create London approached us with a space in Old Manor Park Library and asked us to propose a project which we were only too happy to. A lot of our practice (with both OOMK and in our personal work) is to do with publishing, community engagement and education. We came up with Rabbits Road Press, a community risograph print studio which was open to the public and would provide free training and workshops. We thought a good way of creating a community art space would be to entice people in with free riso printing inductions and workshops and keep them coming back on Open Access Tuesdays with low printing prices and a free studio space.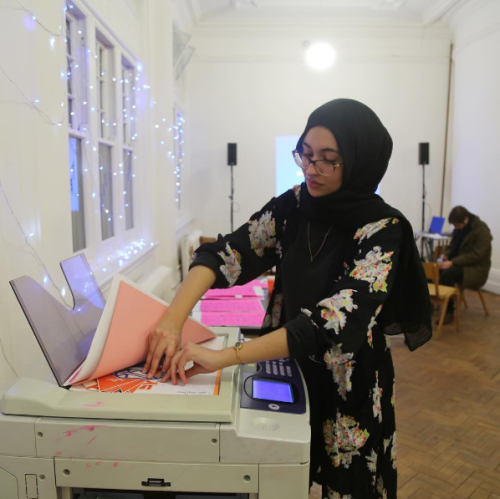 BM: Tell us a little more about One of My Kind (OOMK). How/why did it come together, and what drove your work initially? RR: OOMK is a biannual zine about women, art, activism and faith. The zine is currently run by myself, Rose and Heiba, but there are about 15 women in OOMK collective who we regularly collaborate with and host events with. We also host DIY Cultures which is an annual day festival about zines, art and activism. We were initially driven by the desire to create a space where women, particularly Muslim women, could share their art and ideas and discuss issues that were important to us, issues that often had no resemblance to the type of 'discussions' that were taking place in mainstream media.




BM: What do you hope to achieve with Rabbit's Road Press? What are your goals? RR: We hope to make art-making and the arts in general more accessible. We want to create an environment where people can feel comfortable to explore their ideas and creativity and to take control of all means of production. For a lot of people, pursuing an art school education is increasingly difficult due to high tuition fees so with Rabbits Road Press we're hoping to create a less formal and more accessible alternative.




BM: How can people get involved or support? RR: The doors to Rabbits Road Press are open to the public every Tuesday 2-7pm so come and get a free induction and start making your own work! We've have interest from community and activist groups with very low/no budgets to print ephemera so we're looking to set up a fund for that but we'll get more info on our website in the next few weeks about how people can donate and use that.




BM: Anything else you want us to know? RR: We've got some zine fairs coming up! We're hosting Zine World, 4 March at Rabbits Road Press, details for booking a stall will be on our website very soon. This Monday we also announced DIY Cultures 2017, the day festival will take place at Rich Mix in East London again and will be on 14 May, to book a stall go here, international zine makers very welcome to apply!

For more info, visit Rabbits Road's website. Also follow them on twitter andInstagram for more of their work!